So for those of you who have recieved packages from Lori before will know that she is some sort of packaging over-goddess. For those of you who have never recieved anything rrom Lori, well, you're going to get a peek of what she does ! I didn't want to make a video in my messy room and have to translate things though my dumb accent, but I took what I feel is a pretty extensive break down of the whole thing – want to go on a trip with me ? These are going to be pretty hecking big pictures, because this is the kind of thing that deserves it, so please be mindful of bandwith ! Shouldn't be too terrible, though.
First we had a box, in which we had an envelope, and this is where the magic begins.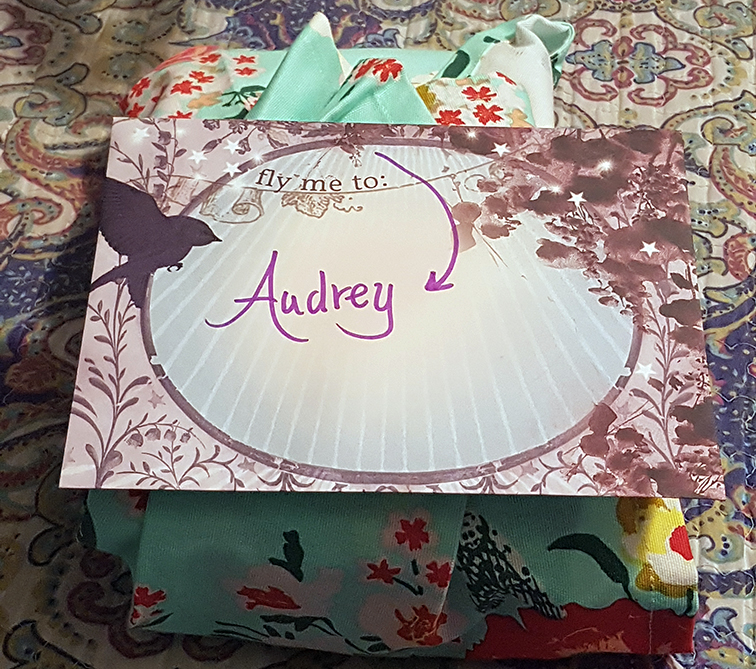 Waaaiitttttt….. Did she send me a blanket ???? No, it's a tea towel. Something to serve soup on, y'see ? So incredibly clever, and a rather beautiful pattern to boot – the towel turned into the backdrop for the rest of the pictures. It was so incredibly clever, and not something I expected to see ! She literally caught me off guard from the get-go ! Im not so clever – as you'll see when she does her own unveiling of her soup – I worry endlessly more about things ending up from point A to point B in one piece than the prettiness of it all. Canada Post is known for not being the gentlest on packages sometimes, no many how many huge red FRAGILE you put on the box (because they no longer have stickers. Yup. I discovered this once I mailed Lori's box).
I also do not sell jewelry, so I have little in term of boxes and packing materials on hand. Gotta do with whatcha got, but maybe I should be more mindful… hm.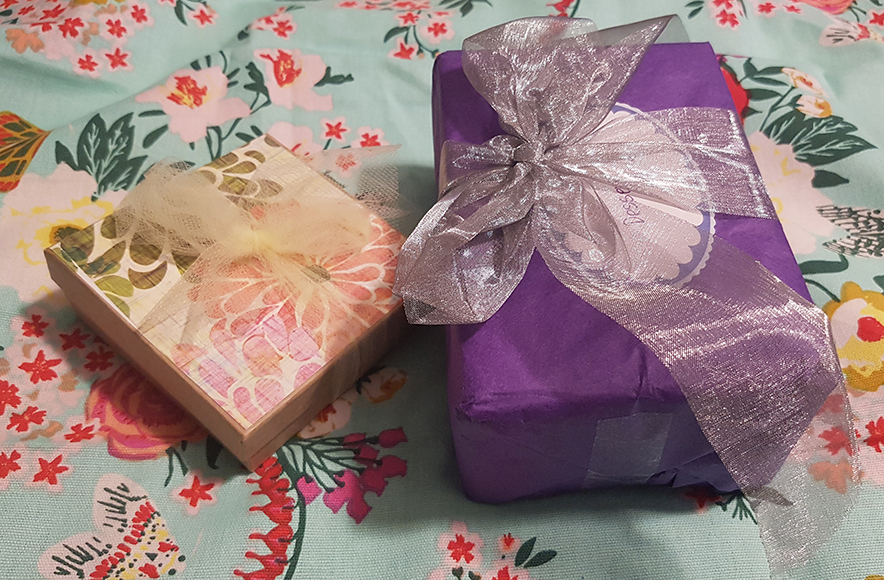 Wrapped into the towel was two boxes – soup and dessert ! Lori and I have known each other for many, many years, and we draw strength from each other even when our own respective illnesses become too much ot bear. At least, I hope she does, because I sure do. We both sent more than the focal that was required for the hop – she sent extra beads, and I sent other things that I hope she might enjoy, over the three focals she may pick from for the challenge :3<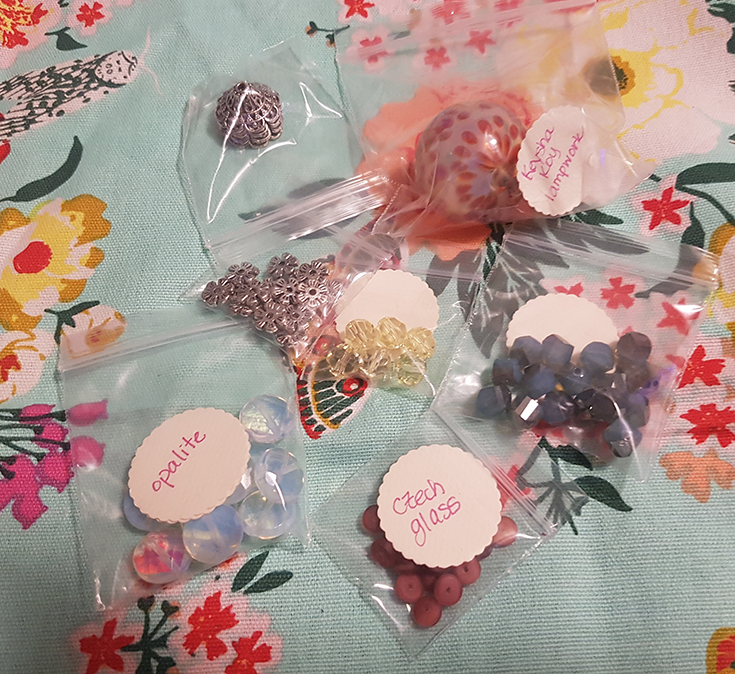 Inside box #1 we find my soup, all nicely labeled, and…. OH MY GOD ARE YOU SEEING WHAT IM SEEING ?????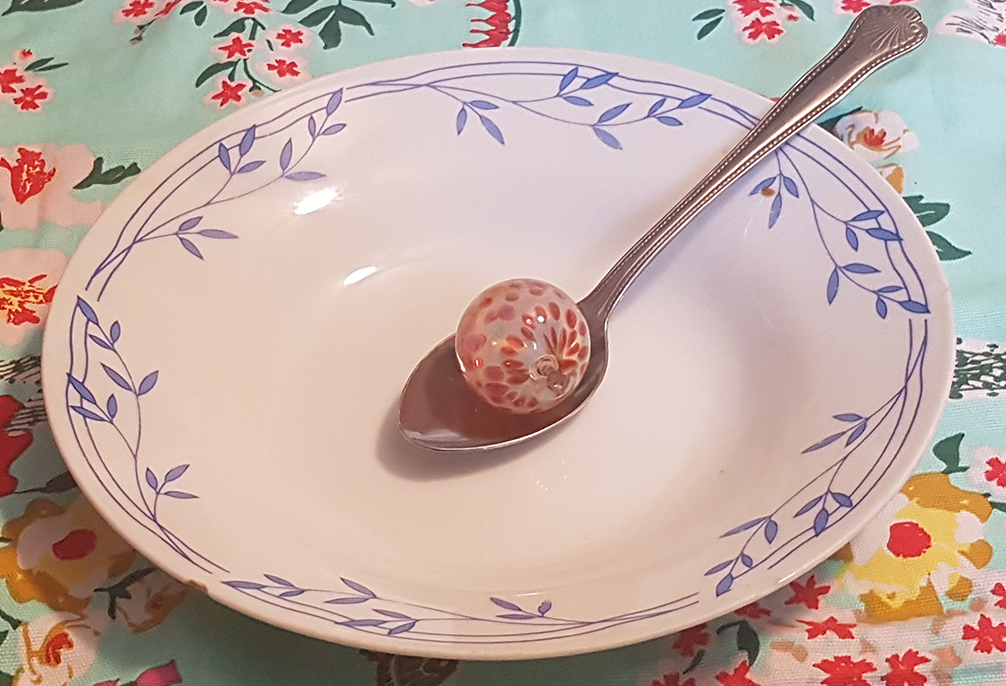 WHAT. HOLY SHIT.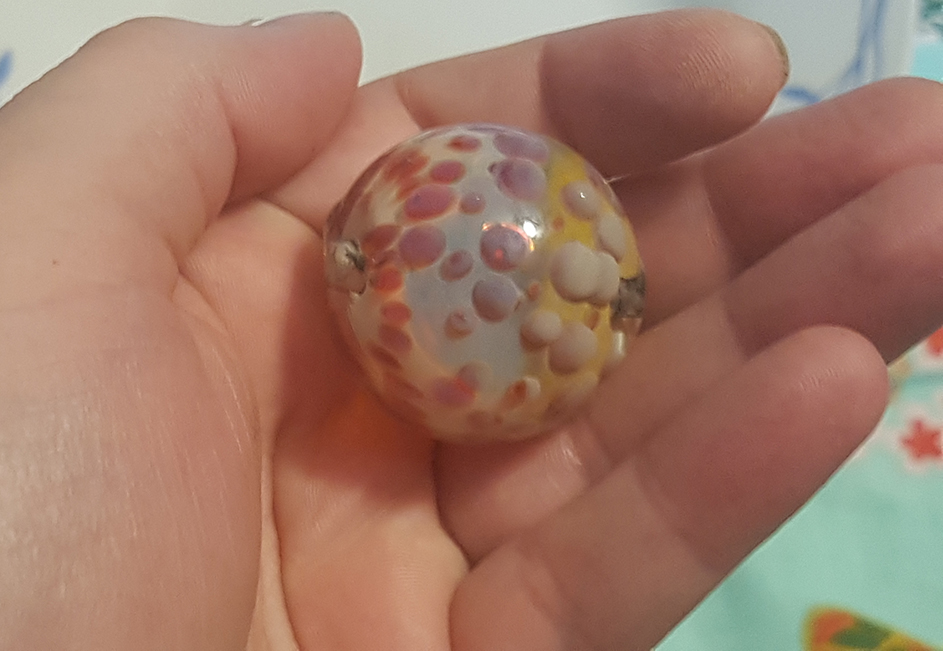 THAT'S HUGE. (THAT'S WHAT SHE SAID). If you know me at all, there is something you probably know – I LIKE BIG FOCALS AND I CANNOT LIE. That's the biggest lampwork bead I have EVER SEEN and had it not been for my brother I would have been GLEEFULLY SCREAMING. This is a lampwork bead from Keysha Koy and oh… oh gods I should never have found that store… <<;;;; Lori recounted the tale in her letter of how she used to raid her booth in shows and just HOARD IT ALL, and gods I can see why ! I have some plans for this already, but I need some supplies… I forgot I gave most of my wire away when I decided to switch to parawire and I had only bought one color. WHHOPS. I should still make it to the deadline, though !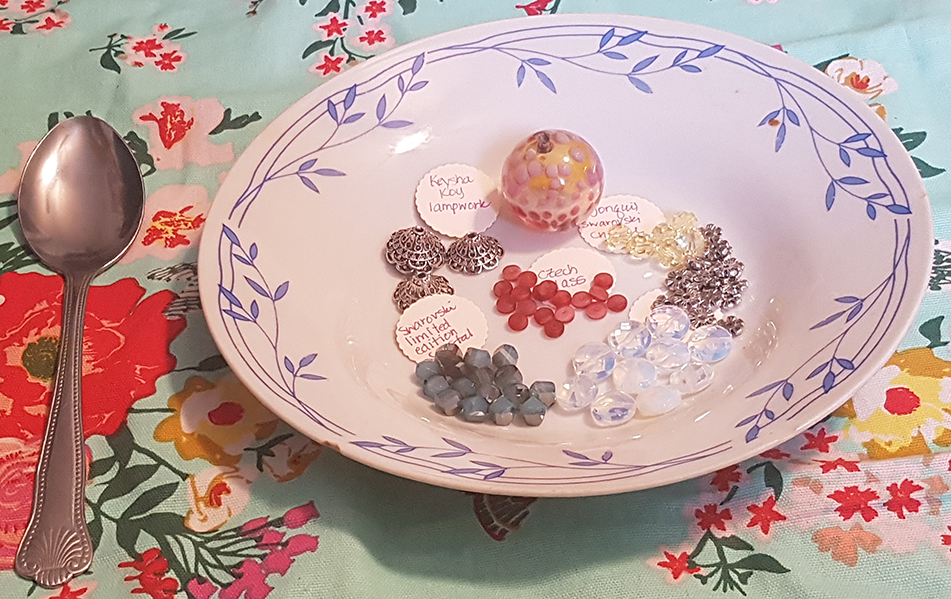 Soup is served…. om nom nom nom. The blue swarowski beads are of a discontinued color, Pacific Opal Satin Helix. Lori wrote that when they discontinued the color and cut, she bought an ENTIRE BOX of them. Girl after my own heart. <3 These are her very last ones, she wrote, and I am honored to have them.
The yellow swarowski color is called yellow jonquil. The opalite she sent without knowing that I ABSOLUTELY ADORE opaline, oddly enough. She has a stash from when she made a series of necklaces, most of which literally sold off her neck. That's never happened to me – no one seems to notice or care enough to ask about what im wearing, though my girlfriend apparently gets asked all the time. Clearly im in the wrong market <<
The czech glass I know little about beyond "I hoard everything". (you and me both, girl, lol !) and the spacers and bead caps are pewter, which she says she has only seen once. Im inclined to agree – I havn't seen anything like these before !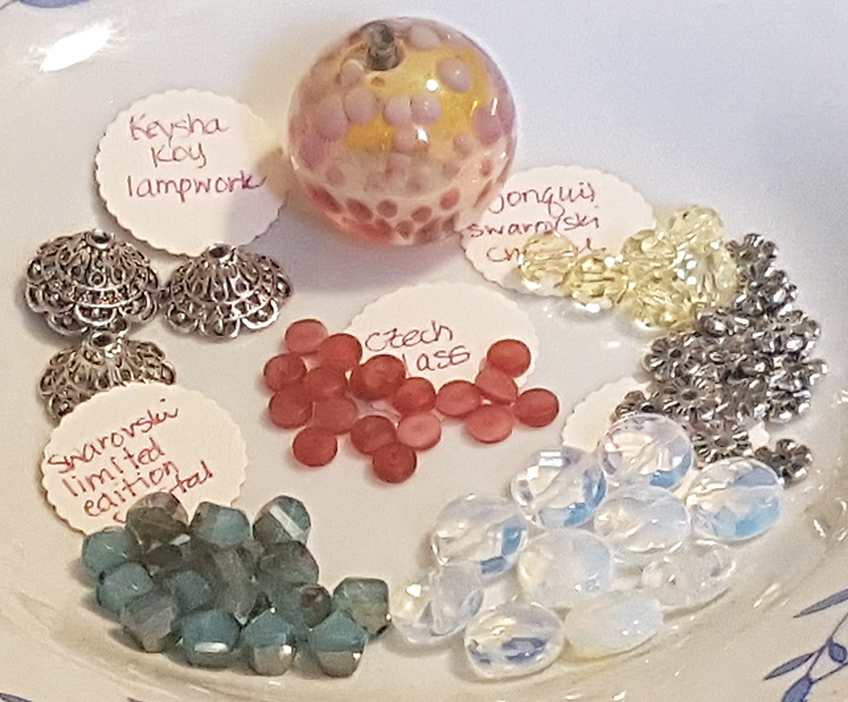 let's have a better look, shall we ? Lori's handwriting is gorgeous. Mine is a mess. I hope she doesn't show the letter I sent << Ahahaha…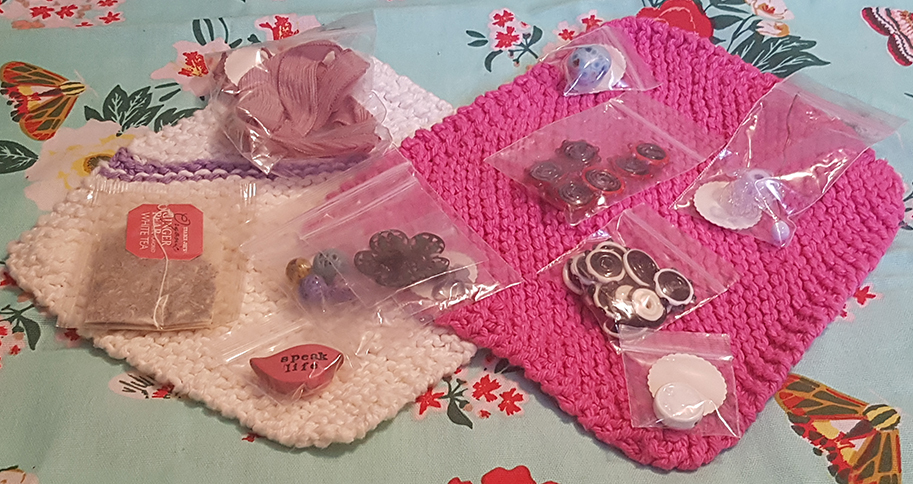 And a tiny sneak peak st dessert – two crocheted washcloths and even more beads, and ribbon ! Gosh, I love ribbon… Reminds me, I should steep that tea, hmm.
And there we go, I hope you've enjoyed this virtual unboxing ! Stay tuned to see if i can remember how to do anything after ten million years !
BONUS ROUND :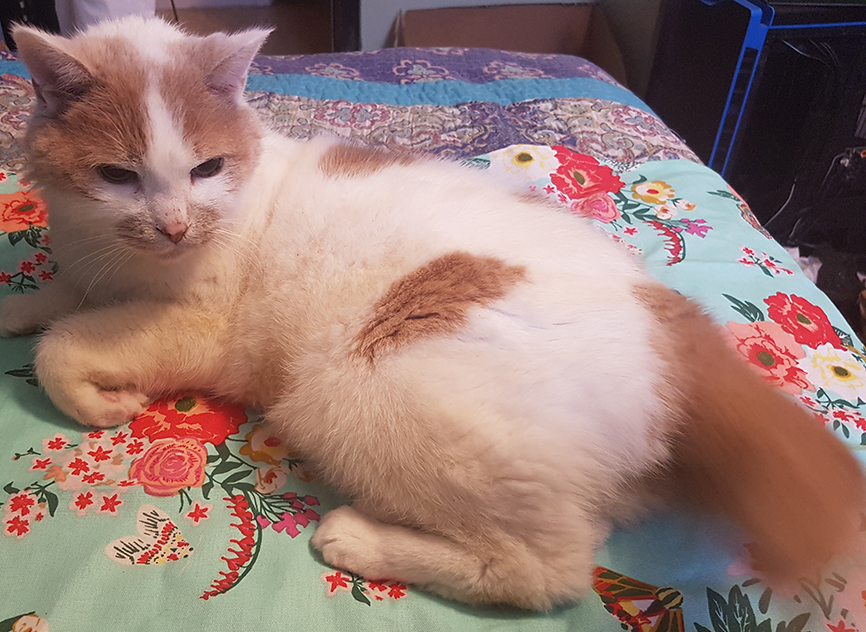 IS A NEW BLANKET FOR CAT ?????? IS FOR CAT, RITE ??????? CLEARLY IS FOR CAT. I FITS. SO I SIT. Aka : I see you were trying to take pictures ?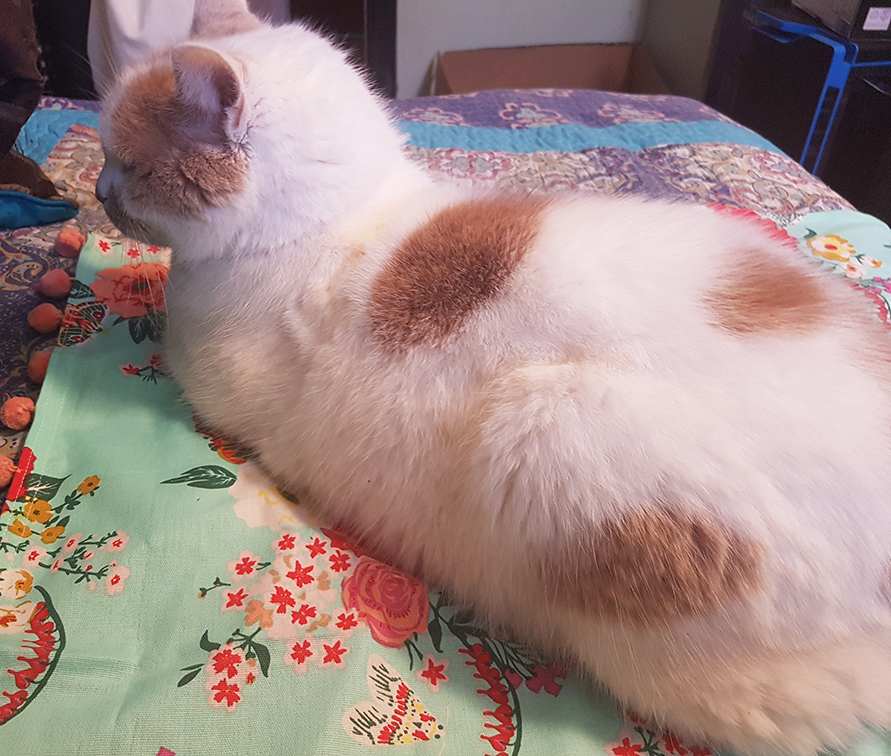 Well that's just to bad. It's mine now.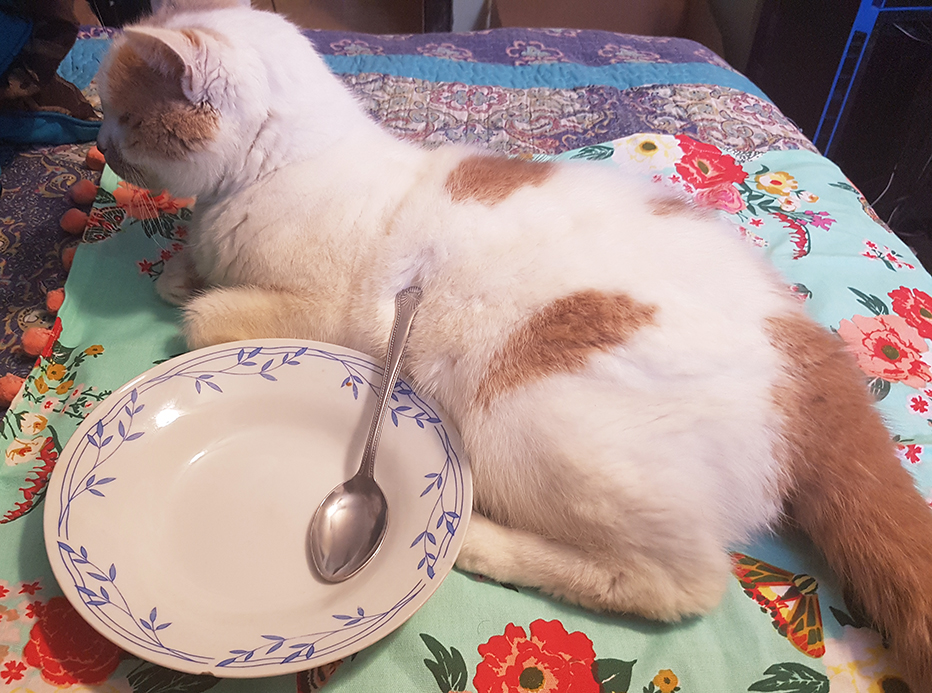 Annoying him with props eventually made him move to the far end of the bed…. But the second I was done, he returned. XD