This is my first cuff, inspired by the lovely cuff that Cathy Trummer Buckley made in the B'Sue Creative Group 🙂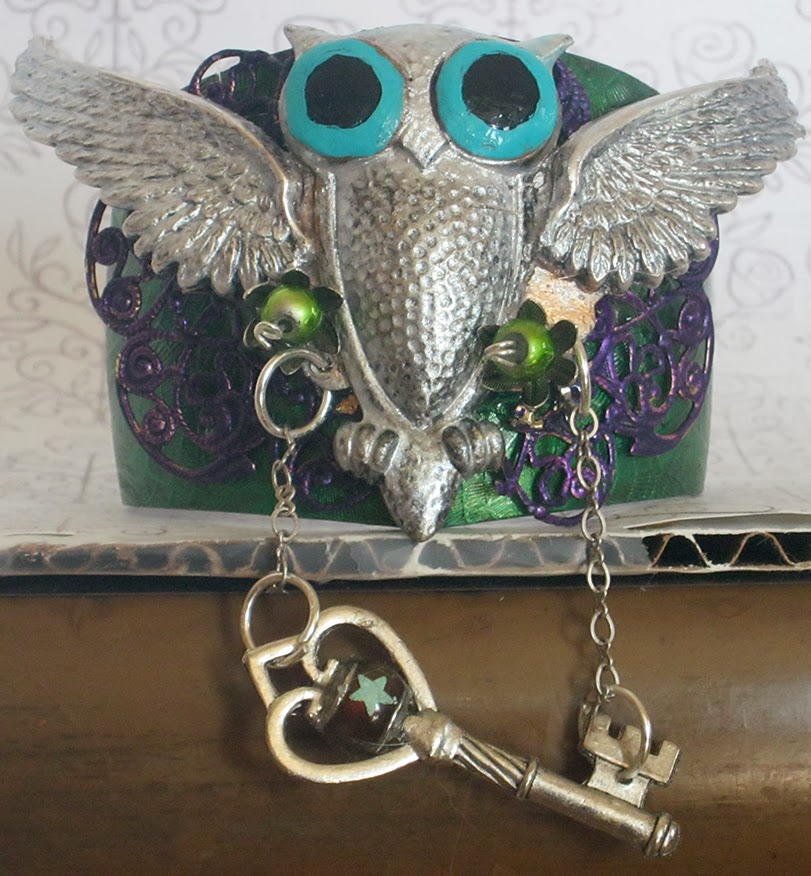 The Secret-Seeker, for Febuary's challenge – such as it can be a called a challenge for me << Someone should tell me NOT to use Vintaj patinas or Lumiere paints, now that would be a challenge !
All components are B'Sue's beside the key, the bead caps, and the mood beads. I actually made the focal part of this last year, but couldn't really make up my mind on how to use it – it seemed cumbersome for a necklace focal, even by my standards. Seeing Cathy's owl on that cuff was kind of the AHA moment.
The actual owl started life as brass ox, I believe, which I painted first with the nouveau silver vintaj patina, then with a layer of glazed down black to tone down the bright shiny silver a bit and have it match the silverplated wings. The very first attempt at this owl had eyes in mixed beads resin, which… in retrospect, was not the best idea ! So I filed and cracked all the beads out and made him crystal clay eyes instead.
When I picked the focal up yesterday, I knew I wanted a different feel, so I went over it with pearl white lumière paint. I thought blueish would be best for the eyes so I repainted over the crystal clay. The cuff itself was, I believe, rusty black – I went over it with emerald green lumière paint, just one layer so that some peeks of the plating underneath still showed up, then sealed it. The filigree was painted purple similarly, but split in two so that the owl would not cover it completely and I could move and overlap the two halves as needed. The flowers are simply spectra beads inside bead caps, I do believe this is a B'Sue technique that is in one of the older videos. Punched an hole in the key, strung it up with chain, glued the bead in, glued the whole thing to the cuff, and VOILA ! You have a birthday gift for your friend ! Who will probably see this and know who she is ! Ah well, can't win them all. 😉